2016 Toyota Tacoma: The Most Anticipated Test Drive of the Year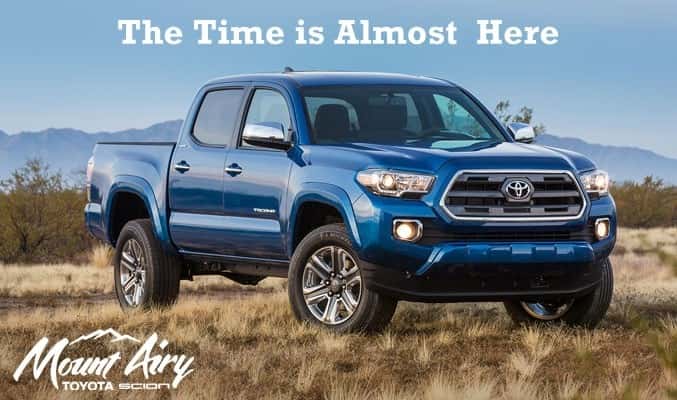 For those of us who have been patiently awaiting the arrival of the new Tacoma, the time is almost here. This fall we will see the 2016 version of the mid-sized truck that leads them all. And though there are some nice aesthetically pleasing changes to its exterior and interior, most impressive is what we find under the hood and body of the 2016 Tacoma. All aspects that make the frame and engine tick have been reconsidered and updated for higher performance, strength, and rigidity. And what better way to showcase these changes then by giving the 2016 Toyota Tacoma a test drive.
Upon entering this venerated truck, you can't help but feel that it seems sturdier, tougher—not just in looks, but in stature. This is due to the updated frame built with ultra-high-strength steel, and fined tuned front and back suspensions, springs, and axles. These features allow for a much smoother, capable drive on or off the beaten path.
The engine performance is better too. Though Toyota is keeping the 2.7-liter 16-valve inline-four-cylinder engine, an all-new, all-aluminum 3.5-liter 6-cylinder engine will be offered this year. This high-performing advancement saves on gas (EPA fuel-economy numbers will be out soon) but misses nothing in pick-up and power. Even if your heart belongs to the 4-cylinder Tacoma engine, you have to give the V-6 a drive—you will be floored by the power it has. Driving through snow, ice, or mud is no problem, not even a task. Hop on the highway and be amazed at how quiet and smooth the ride is. But don't be afraid to punch it a little—maybe pass those other mid-sized, 4-cylinder trucks in the right-hand lane—and notice how much more power the 2016 Tacoma has in comparison to its older versions.
Upon taking the 2016 Tacoma out for a test drive, it's evident that some serious thought has gone into keeping this brand the toughest, most respected mid-sized truck on the road today.