2016 Toyota RAV4: 5 Fun Things to Do Near Mount Airy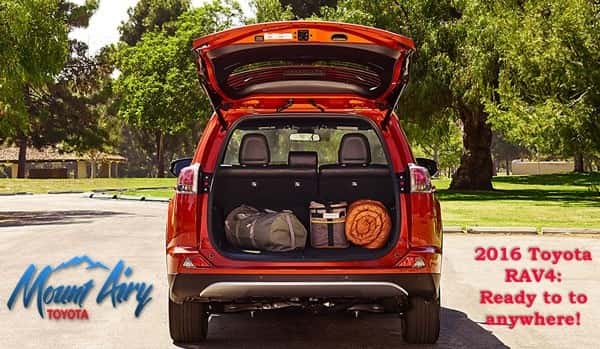 If you live in or around Mount Airy, such as Danville or Wytheville, Va, there are some great places to visit this summer. Especially in your new 2016 Toyota RAV4. Here are five fun trips to take with friends or family that are sure to create lasting memories.
Load the 2016 Toyota RAV4 with a blanket and friends and hop on Interstate 77. Enjoy the smooth ride and excellent sounding stereo until you hit Shelton Vineyards. Here you can enjoy a full day of beautiful weather, great live music, and exceptional wine. With a large variety of tastes, from extra sweet to ultra-dry, no one gets left out. And if it's a little too hot to sit outside, they have plenty of room indoors to keep you cool and happy.
Feeling the need to be a bit more active? Throw the canoe and fishing poles on top of your Toyota RAV4 and head up 77 to the New River State Park. Here you can fish and canoe down the river all day. What a wonderful way to soak in the beautiful landscapes. This is a great place for pets to run around, as well as picnics with the family. Just open the 2016 Toyota RAV4's back hatch, turn on some tunes, and enjoy the weather.
Experience the superior suspension, power, and turning radius of your 2016 Toyota RAV4 by heading down Route 52 to Pilot Mountain. This is a great time to roll down the windows, open the sunroof, and bask in the beauty provided by endless trees and rolling hills. This is the kind of driving the RAV4 was made for!
Whether or not you are a fan of the Andy Griffith Show, visiting Mayberry can be a fun trip to take the family and reminisce on the days of old. Mount Airy, NC hosts a variety of museums, diners, and some great antiquing honoring the town of Mayberry.
Lastly, what would summer be without watching a movie at a drive-in theater? Mount Airy's own Bright Leaf drive-in, off of Andy Griffith Parkway, is the set-up for the perfect date. Enjoy the plush seats and ample leg room of your Toyota RAV4 by watching an old film on the big screen. I suggest bringing a bottle of wine and snacks and staying for two showings!
If you are interested in finding out more about the 2016 Toyota RAV4 you and shop online or call our sales department.
Shop online at www.mountairytoyota.com or call our sales department at 336-786-2118. You can schedule a test drive or get pre-approved right from our website.