2016 Toyota Prius vs 2016 Ford Fusion Hybrid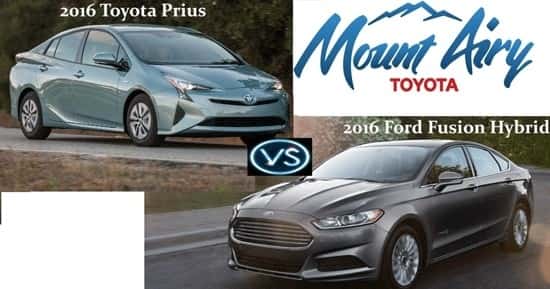 2016 Toyota Prius vs 2016 Ford Fusion Hybrid: Which Hybrid is better?
At Mount Airy Toyota, we realize our customers have a choice when it comes to hybrids. If you are looking for superb fuel economy, you are probably looking at the 2016 Toyota Prius. Toyota has been the leader in making fuel efficient hybrids, but other manufacturers are coming out with their own. Let's compare the 2016 Toyota Prius with the 2016 Ford Fusion hybrid.
Fuel Efficiency. This has to be the number one reason people consider going green. And there is really no beating the superb fuel economy of the 2016 Toyota Prius. The 2016 Toyota Prius boasts 54 City/ 50 Hwy miles per gallon! The 2016 Ford Fusion comes in a whole 10 miles per gallon below the Prius at 44 City/ 41 Hwy.
Comfort and cargo. Since a hybrid can go much further than a regular car, you'll want a car that is both comfortable and can carry all your stuff for road trips. The 2016 Toyota Prius again shines in these categories. The 2016 Toyota Prius has 24.6 to 27.4 cu. ft. of cargo space. The 2016 Ford Fusion only has 16 cu. ft. Both cars have comfortable seats and smooth transitions, but the Toyota Prius is quitter and has better handling.
Technology. Technology is an important part of driving these days. Staying connected and informed while on the road can be essential. The 2016 Toyota Prius comes with a 7-in touchscreen and a 4.2-in. color dual Multi-information display that is customizable. The Toyota Prius also has available parking assist- so you can parallel park with ease- and available Entune Premium audio with integrated navigation. According to other reviews, the 2016 Ford Fusion has "interior controls that are small, difficult to use and poorly organized on the center stack."
The best way to compare vehicles to take them for a test drive! Come down to Mount Airy Toyota and get one of our sales people to take you for a spin. You will see for yourself which hybrid is best for you!