2016 Toyota Corolla: The Perfect Graduation Gift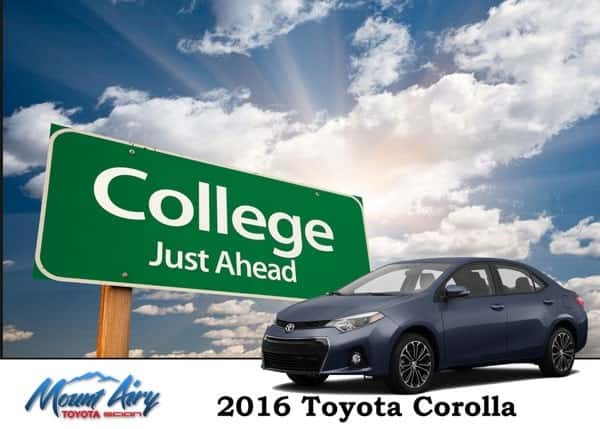 A graduation gift that is sure to impress is the 2016 ToyotaCorolla. If you have a graduate in Mt Airy NC that is going off to college or starting their job search- a reliable sedan is perfect and the 2016 Toyota Corolla is the right price at Mount Airy Toyota Scion.
It's almost that time of year for caps and gowns, parties, and parting ways. And what better a gift this graduation season than one of the most reliable and smoothest driving small sedans on the market today, the 2016 Toyota Corolla.
The 2016 Toyota Corolla's 183-inch length and roomy interior is perfectly suitable for long trips. Especially long trips with a car full of dorm-room necessities. Toyota has spent a lot of time and thought on the interior capabilities of the 2016 Corolla. The front seats are more comfortable than ever with longer cushions and plenty of adjustable positions. The back seats sit comfortably as well. There is more than enough legroom, allowing passengers to stretch and relax. Best of all, there is 13 cubic feet of trunk space. For being considered a small sedan, the 2016 Toyota Corolla definitely doesn't seem tiny.
Toyota even has options for those students who are traveling to college far from home. The 2016 Toyota Corolla LE Eco saves on gas with 30 miles per gallon in the city, and 42 miles per gallon on the highway. And with less stops to the gas station, your student will be apt to visit home more often.
Though buying a car can be a pricy ordeal, you do want the best for your soon-to-be graduate. Luckily, right now Mount Airy Toyota is having its annual Spring Fling. Come in today and you will find a beautiful selection of 2016 Toyota Corollas in the $17,000 price range. And Mount Airy Toyota offers 0.0% financing for 60 months. With a suggested MSRP in the $19,000, you can't beat this offer.
Get the graduation gift that will last the longest and always be remembered. The 2016 Toyota Corolla offers superior quality and savings. And its sharp, modern look will win over any young adult heading off to begin a new life.
Mount Airy Toyota Scion is located at 508 N Andy Griffith Pkwy. Stop in for a test drive or search though our inventory online.