2016 Toyota Avalon: A High-End Vehicle for Low Price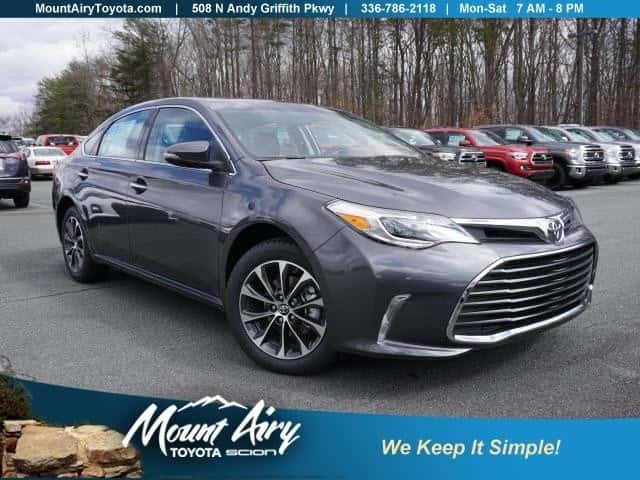 In Mount Airy, NC, the 2016 Toyota Avalon is an excellent choice for commuting to Winston-Salem. A stylish, streamlined sedan with a classic look makes the 2016 Toyota Avalon your choice for a high-end vehicle for a low price.
In 2013 big changes, and good ones at that, were made to the Toyota Avalon. A streamlined exterior with flared fenders and a rolling roof line brought the look from a typical sedan to high-end vehicle. Each year since this reconfiguration, the Toyota Avalon has been able to make subtle changes here and there, and improve upon good ideas to make them great. This trend to perfection continues in the 2016 model with a redefined front-end, including a larger grille with down turned edges, giving the new Toyota Avalon a tougher, more serious look. And the standard LED taillights on all 2016 Toyota Avalon models, modernizes what continues to be a vehicle of relevance.
The interior of past Toyota Avalons have been nice, but often ended up feeling like a slightly upscale Camry. For the past few years though, the interiors have been tweaked to advance towards a luxury unmatched by those in the same price range as the Toyota Avalon. With soft surfaces, leather bound cup holders, and a conservative use of wood grain highlights and minimalist colors, the 2016 Toyota Avalon looks and feels better than ever.
Toyota Avalon's success in safety features continue to impress. In addition to electronic stability control, anti-lock brakes with Brake assist, up to ten airbags, and a Smart Stop break-override system, Toyota has added a pressure monitoring system. This system uses tire-specific pressure monitoring to let you know exactly when and which tires need air. If you live anywhere, such as the Mount Airy region, that has constant changes in temperature, this is a great feature to have.
The best part about the new Toyota Avalon is its low price. Right now at Mount Airy Toyota you can find a 2016 Avalon XLE with front-wheel drive for only $31,991. That's $2,500 off the suggested dealer price! Come in now and give Toyota's most luxurious vehicle a drive. You won't regret it.